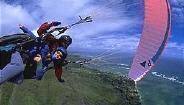 Most say it is addictive - the feeling of your first flight is simply awesome! The fascination of peaceful gliding though the blue sky, the serenity and harmony with nature, feeling the wind in your face while observing the world from above.
Since 2003 we are offing "pedestrians" the opportunity to do a tandem flight with an experienced paragliding pilot. It does not matter if you just want to see your home country from the air or if you want to try out the sport, we can make you an offer.
We have already carried out numerous biplace flights. If you want to join the experience, all you need is solid shoes and a jacket.
For further information please directly contact Jörg Hinrichs or Acki de Buhr.
In the moment Tandem flights are only possible on very few days of each year!